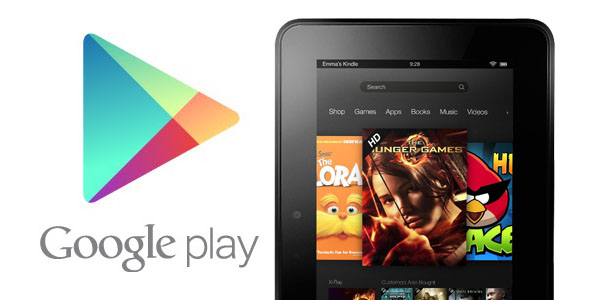 Google Play Store is one of the worlds leading app stores close to the Apple App Store.
The question you are probably asking is, can I really download Google Play Store on my Kindle Fire Book?
The simple answer is yes, and it won't take you more than 10 minutes.
I understand that you want to get the most out of your Kindle Fire Book, so I will be helping you with that.
In this article, I will be giving you a step by step guide on how to download Google Play Store on your Kindle Fire Book.
Take these precautions before downloading Google Play
There are a few things you need to do before you start installing anything.
The first thing I would say is to try and carry out my instructions while reading them. This way you won't forget anything and run into problems.
The second thing I would ask you to do is to update your Kindle software.
The reason I ask you to do this is that some of these files won't work on a device running old software.
I'll be showing you showing to do this so go and do it now.
How to update Kindle Fire software:
I want you to head over to Settings > About or System Update > If there is an update available then go ahead and install it. It's a very simple process, just follow the on-screen prompts.
Now I want you to go ahead and turn on Download Manager if not already on.
How to turn on Download Manager on Kindle Fire:
Open Settings
Tap on Apps
Click on the three dots in the top right corner
Tap on Show System Apps
Search for Download manager
Tap on Enable
Now you are ready to go. If you weren't able to do any of the above, then go ahead and start anyway. It will still work.
These are just for extra precautions only.
How to download Google Play Store on Kindle Fire in less than 10 minutes
1. Download Google Play Store APK Files
Step 1: The first thing will you to do is to head over to the Settings on your Kindle Fire and then tap on Security.
Step 2: You will see in the Advanced section where it says Unknown App from Unknown Sources. Toggle this on.
Why should I toggle this on?
Android usually doesn't allow you to download things from Unkown sources.
In this article, we will be downloading things that aren't available on Kindle so toggling on this setting will enable you to do that.
Step 3: You now want to navigate to your Silk Browser on your Kindle and download the files I'm about to list below.
If your Kindle is 4th, 5th, or 6th Generation Fire then go ahead and download the files listed below. If not then carry on reading.
To check which generation your device is, go to the Settings and select Device Options. Now scroll down until you see Device Model.
Now check which version your Kindle is.
If your Kindle is 4th, 5th, or 6th Generation Fire:
If your Kindle is 2017 7th Generation Fire HD 8:
Step 4: Once you click on the link you will see a Download APK File button just like in the image below.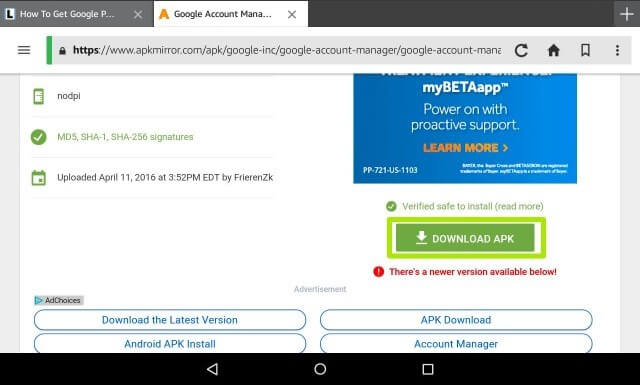 Don't worry! These files won't harm your device so just ignore any pop-up that says otherwise.
Step 5: Once the first file has been downloaded, click on Open.
Step 6: Now scroll all the way down until you see Install. Tap on this.

Remember to click Done.
Do this for all of the other 3 APK files.'
Now you can see Google Play has been installed you can choose to proceed using by going to Step 2 by scrolling all the way down to the bottom.
If you can't see the Google Play app on your Kindle Fire tablet, especially if you have an old model then look just below this.
If you can't see Goole Play Store
This is if you can't see the Google Play Store app on your Kindle but you have downloaded all APK files.
Step 1: Close the Silk Browser you were just on and head over to the Docs app that comes pre-installed on your Kindle. It looks just like in the image below.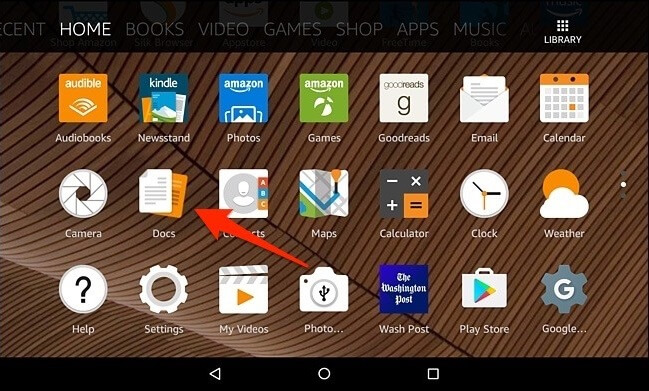 Step 2: Go over to the Local Storage Panel at the top and then click your Downloads folder.
All the APK files should be in here.
Tap on each of them to install the Google Play App. Remember to only install each folder in the same order you downloaded it from. Scroll above for a reference
Step 3: On the next screen you should you would want to confirm the installation by clicking Install at the bottom.
In the left-hand corner, it will say the APK files you are installing.
Remember to install them the same order as you downloaded them.
2. Google Play Store should now be Installed
You should now see the Google Play Store app on your Kindle Fire.
Now all you have to do is sign into your Google Account in order to start downloading apps.
Don't worry if it is not lettings you sign in. Just give it a few minutes for it to work.
It may take up to an hour.
If Google Play is not working for some reason then I want to follow the steps below.
How to clear cache on Kindle Fire:
To clear cache on your Kindle Fire go over to Settings > Apps or Application Manager > select the Google Play Store app > Uninstall Updates > Ok.
Wrapping it up
Hopefully, by now everything is up and running.
If you have any questions then feel free to leave them in the comments section below and I will try to respond as soon as possible.
I would appreciate if you could also give this a social share.
Thanks for reading.